Teeth Whitening for Seattle, Washington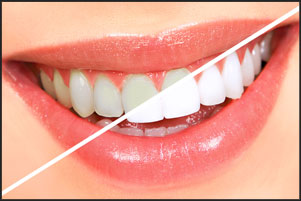 Over time, your smile will stain and discolor. It's a byproduct of the aging process, and lots of factors can contribute to the dulling of your teeth. With professional teeth whitening performed by your dentist, you'll find that you can have these ill effects reversed, once again enjoying a bright and youthful smile. Dr. Robert Taylor in Seattle, Washington offers patients both in-office and take-home teeth whitening options, tailoring your treatment to your lifestyle, desires, and comfort.
In-Office Teeth Whitening
If you're preparing for a big event, why not boost your confidence with in-office teeth whitening? In a single visit to our Seattle dental office, your smile can become multiple shades whiter. You'll make a big impact at your wedding, graduation, business presentation, job interview, or first date, and you won't have to wait days for results; simply spend an hour to an hour-and-a-half in our comfortable office, and you'll see a big difference. The effects of in-office teeth whitening are enhanced with a curing light, which maximizes the change possible. You simply relax; we take care of the rest!
Take-Home Teeth Whitening
Professional at-home teeth whitening, using custom fit bleaching trays created you by the office of Dr. Taylor, offers reliable, consistent, and considerable results. You visit our office to be fit for the custom whitening trays, and we send you home with the trays as well as professional-grade whitening solution. Why should you turn to Dr. Taylor for at-home teeth whitening when there are over-the-counter options available from the local supermarket or drug store? The results of professional teeth whitening are more predictable, and custom fit trays offer a great deal of protection and comfort. Stubborn stains will respond more positively to professional-grade teeth whitening, and you can achieve more dramatic results.
Teeth whitening is a great service for patients who want to improve self-esteem and make more positive first impressions. No smile will make it through life unstained, but you can trust professional teeth whitening from our Seattle dental office to transform your discolored grin. You may want to use teeth whitening in conjunction with veneers, crowns, dental implants, or any other number of restorative or cosmetic dental care treatments. Teeth whitening is a popular and easy way to take advantage of modern cosmetic dental care.
Contact our Seattle dental office to make an appointment. Dr. Taylor offers comprehensive general, restorative, and cosmetic dentistry to patients in the area, maintaining a relationship for quality care, a comfortable office, and friendly service. We encourage you to turn to Dr. Taylor for all of your oral healthcare needs.