Dentures and Partials for Seattle, WA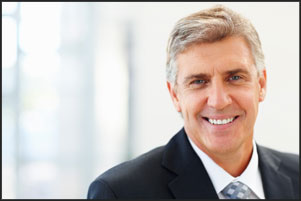 Dentures famously replaced George Washington's missing teeth, and they've helped countless others both before and since that time. While dentistry has developed other methods, including dental implants and fixed bridges, dentures and partials are still the best option for some patients. To learn which of these tooth replacement options would work for you, visit the Seattle, Washington dental office of Dr. Robert Taylor for a consultation.
A full or partial denture is a removable form of tooth replacement. False teeth are imbedded in a gum-like base, and this dental prosthetic rests on the jaw bone. If you're wearing a partial denture, the prosthetic will include a frame and clasps to anchor to remaining teeth. A full denture can be held in place with natural suction that occurs between the base of the denture and the roof or bottom of your mouth.
The Dentures and Partials Process
The entire process of replacing teeth with a denture or partial generally takes between three and six weeks. First, you'll visit with Dr. Taylor to discuss your needs and outline your treatment. If teeth need to be extracted, we'll create a plan for this part of the process. Your denture or partial can either be designed prior to extraction, allowing your prosthetic to be ready for you to immediately wear after extraction, or it can be designed and made after extraction. We'll take a series of impressions of your jaw and record measurements; this information will be sent to the dental lab that creates dentures and partials. We'll have models made first, which will allow you to "try on" your dentures, and then a final denture or partial will be cast. If necessary, we'll adjust your denture until it fits perfectly.
Dr. Taylor takes great care to make sure that dentures and partials provided by our Seattle dental office are comfortable, functional, and attractive; gone are the days when dentures and partials only offered second-rate tooth replacement. We still recommend that patients consider dental implants if possible, but we also understand that dentures and partials can offer effective tooth replacement for people who are not candidates for dental implants. They also serve as a very affordable alternative that could fit your lifestyle and budget.
The only way to find out which tooth replacement option is right for you is to contact our office and make an appointment. When you're searching for tooth replacement options, turn to the Seattle dental office of Dr. Taylor; we have a reputation for providing high quality restorative and cosmetic dentistry that will not only improve your smile, but improve your life as well.