Dental Implants for Seattle, Washington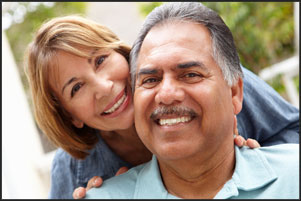 Have you lost one tooth or several teeth? This is a common problem; most Americans lose at least one tooth over the course of their life. Luckily, there's a solution that mimics your natural teeth, looks and feels great, and provides improved oral health as well as outstanding aesthetic results: implants. Dr. Robert Taylor offers the entire dental implants procedure at our Seattle, Washington dental office, simplifying the process and helping your dental restoration go much more smoothly.
More and more, patients are turning to dental implants because they offer such amazing benefits and provide a modern, advanced way to replace missing teeth and rebuild broken smiles. Rather than replace a tooth or teeth with removable dentures or a fixed bridge (which only replace the crown of the tooth and not the root), you can replicate the entire structure of the tooth with a dental implant, from root to crown. There are two basic phases to dental implants treatment, and you also may need oral surgery to prepare your jaw before these phases begin. However, Dr. Taylor has trained with some of the top educational organizations and oral surgeons in the country to make ours the place to go when you want dental implants for tooth replacement.
The Dental Implants Process
The first phase of your dental implants procedure will be surgical implant placement. Titanium posts are implanted in the jaw bone, and these implants act as replacement tooth roots that will hold your replacement tooth in place. Titanium is strong and biocompatible, and once these posts have been placed in the jaw, you will be given several months to let the implants heal and fuse naturally to your jaw bone. This is what gives dental implants their reputation for stability and durability. It's also why dental implants are so great for your jaw bone.
When teeth are lost, the jaw begins to deteriorate. Without tooth roots to support, the bone there has no further purpose to serve. By replacing the tooth roots with titanium dental implants and allowing these implants to fuse to the bone, healthy bone tissue is encouraged and deterioration is avoided.
After the healing process is complete, we will then place dental crowns on top of the implant posts. Made from natural-looking porcelain or zirconia, these dental implant restorations complete your smile.
If you want to learn more about dental implants or discuss this restorative dentistry option with Dr. Taylor, contact us and make an appointment at our Seattle, WA dental office. Dr. Taylor will outline every aspect of this service with you to make sure that you have an active role in your treatment planning. Also, iff you've had dental implants placed by another dental professional and are displeased with the results, we encourage you to make an appointment with Dr. Taylor. He's helped several patients in your situation by fixing poor dental implant work to produce rehabilitated smiles.